Wednesday, August 17, 2005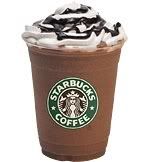 I used to have one
venti
Mocha Frappuccino almost daily because I lived near a starbucks store.Having cold coffee while chatting on MSN and watching Real World on MTV was heavenly=) I miss MTV U.S =( The MTV S.E.A on local cable doesn't even come close.
Anyway, I invented a recipe for making Mocha Fraps for cheap(nothing better to do) and it tasted really similar(approved by husband).
Starbucks Mocha Frap for cheap
Ingredients:-
one mug of cold milk
2 tsp instant coffee
2 tsp honey
2 tsp hot chocolate mix
whipped cream
ice
Method:-
Heat one quarter mug of milk in microwave and mix instant coffee, honey and chocolate mix thoroughly.Add the rest of cold milk then ice and finally top it up with lotsa whipped cream.