It's Chinese Take Out Time
Counter *Free*
Current Viewer Counter *Free*
Min Who?
Just another avid domestic chef

My Friends
*soon*

Tagboard
Place TagBoard here!

Other Links
Blogskins.com
Adventures With Chopsticks
We decided to have Hawaiian takeout food tonight! ...
Some interesting kitchenware I found on Ebay Pa...
Absolutely nothing to do with food but i thought i...
Howdy!It has been a long time.I have been making k...
T-FAL Jamie Oliver Professional Series.(9-Piece ...
Click for bigger pic Thai Coconut Red Curry Chi...
I beefed up the normal spaghetti with blanched cut...
I'll be home[Singapore if you haven't figured out ...
Click on pic for full size Before you drive dow...
Sorry for the lack of posts...have been busy latel...
Fortunes Can Be Funny
put your icons, blinkies or adoptions here.

Fortune Cookies


Blogskins
Soup-Faerie.com for Cursor

Take Out Boxes
03/01/2004 - 04/01/2004
04/01/2004 - 05/01/2004
05/01/2004 - 06/01/2004
06/01/2004 - 07/01/2004
07/01/2004 - 08/01/2004
08/01/2004 - 09/01/2004
09/01/2004 - 10/01/2004
10/01/2004 - 11/01/2004
11/01/2004 - 12/01/2004
01/01/2005 - 02/01/2005
02/01/2005 - 03/01/2005
03/01/2005 - 04/01/2005
04/01/2005 - 05/01/2005
05/01/2005 - 06/01/2005
06/01/2005 - 07/01/2005
08/01/2005 - 09/01/2005
09/01/2005 - 10/01/2005
10/01/2005 - 11/01/2005
02/01/2006 - 03/01/2006
03/01/2006 - 04/01/2006
Husband decided to skip thanksgiving dinner at work and have dinner with me.It was late when he reached home so we "ate out" again.I wanted to have Red Baron's oven baked pizza but husband felt like Panda Express

.I obliged.



Husband's chao mein, orange chicken and beef broccoli combo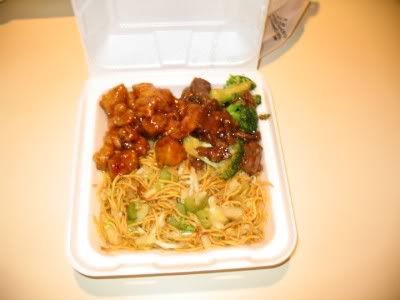 Min's kong pao chicken breast with green beans, mixed vegetables and steamed rice combo