It's Chinese Take Out Time
Counter *Free*
Current Viewer Counter *Free*
Min Who?
Just another avid domestic chef

My Friends
*soon*

Tagboard
Place TagBoard here!

Other Links
Blogskins.com
Adventures With Chopsticks
Sambal Grilled Fish
Good Idea?
Coffee Presspot
hurricane katrina
Some food pics..
I love Starbucks!
Szechuan...
My comfort food
Moving into my new home by this week
Nigella's kitchen line is simple yet beautiful
Fortunes Can Be Funny
put your icons, blinkies or adoptions here.

Fortune Cookies


Blogskins
Soup-Faerie.com for Cursor

Take Out Boxes
03/01/2004 - 04/01/2004
04/01/2004 - 05/01/2004
05/01/2004 - 06/01/2004
06/01/2004 - 07/01/2004
07/01/2004 - 08/01/2004
08/01/2004 - 09/01/2004
09/01/2004 - 10/01/2004
10/01/2004 - 11/01/2004
11/01/2004 - 12/01/2004
01/01/2005 - 02/01/2005
02/01/2005 - 03/01/2005
03/01/2005 - 04/01/2005
04/01/2005 - 05/01/2005
05/01/2005 - 06/01/2005
06/01/2005 - 07/01/2005
08/01/2005 - 09/01/2005
09/01/2005 - 10/01/2005
10/01/2005 - 11/01/2005
02/01/2006 - 03/01/2006
03/01/2006 - 04/01/2006
Tuesday, November 30, 2004
Our boxes(boxes not Min and the hubby) will leave for sg in 2 days so we're rushing to buy, exchange unsatisfactory(badly scratched or inoperable) merchandise and pack our items.Min's lesson of the day:- always always insist on proper footwear(pretty sequinned slippers not acceptable:P:P) when shopping else -1C(41F) is guaranteed to have all your toes fall out.Silly Min's toes are fine...just very numb and painful at the moment.


Anchor Hocking bakeware set(this colour looks really pretty in real life)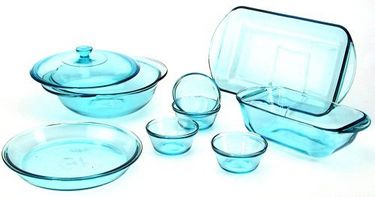 Anchor Hocking 8 of 16oz tartan glasses cept' it's in blueberry( I love blue:))

The usual turkey with stuffing on the side, mash potatoes, devils eggs, pepperoni pizza, garlic bread, Cheng Tng, home-made barley...that's all i can remember.We celebrated thanksgiving at a friend's place:)
Tuesday, November 23, 2004
Not exactly food...
Just a little something i got for the husband when i went out shopping
Shotglasses

Monday, November 22, 2004
Chinese takeout for dinner
Wet chow fun(aka hor fun) with flat rice noodles, shrimp and lotsa veggies in a sweet/salty sticky sauce 8USD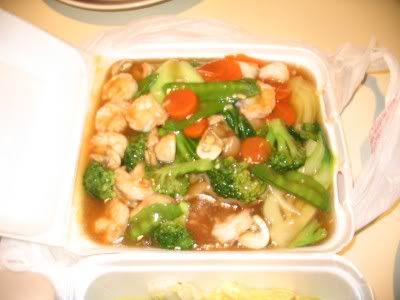 Scrambled eggs with chicken and spring onions 7USD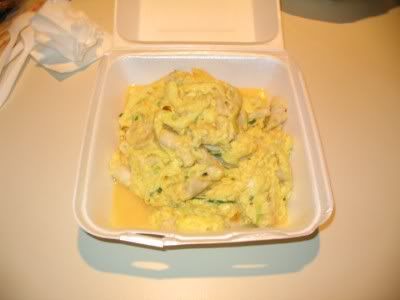 Sunday, November 21, 2004
We decided to make Chicken Tenders before we head out for my haircut
My first attempt at making chicken tenders tasted alright but it could be better.I got the recipe from the show Cooking Thin at foodnetwork.com.The original recipe calls for salt(normal table salt) and peppering the raw chicken tenders, drenching it with plain yoghurt and coating toasted breadcrumbs but i will definitely add seasoned poultry salt and liberal amounts of olive oil next time round.
I like their idea of baking the tenders in place of deep-frying though so will stick to that.
Chicken Tenders(bad picture sorry)

Saturday, November 20, 2004
Husband decided to skip thanksgiving dinner at work and have dinner with me.It was late when he reached home so we "ate out" again.I wanted to have Red Baron's oven baked pizza but husband felt like Panda Express

.I obliged.



Husband's chao mein, orange chicken and beef broccoli combo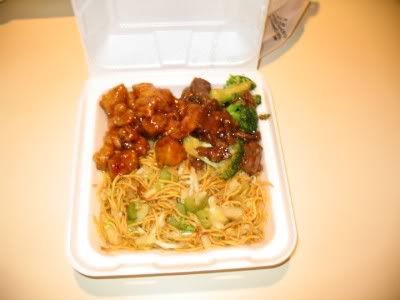 Min's kong pao chicken breast with green beans, mixed vegetables and steamed rice combo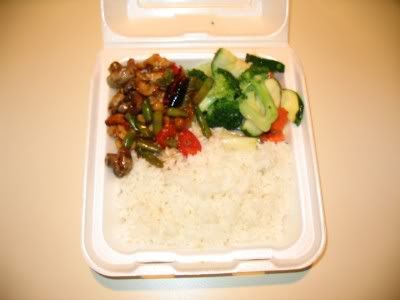 Thursday, November 18, 2004
We decided to have Hawaiian takeout food tonight!
Husband's Chicken Katsu, a light mayo lettuce salad, macaroni salad and poorly prepared japanese rice(hubby said so himself:p)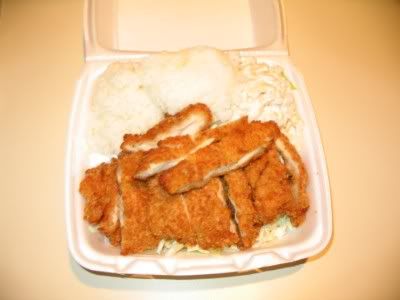 Min's Hawaiian BBQ chicken thighs, a tasty cabbage stir-fry, macaroni salad and japanese rice.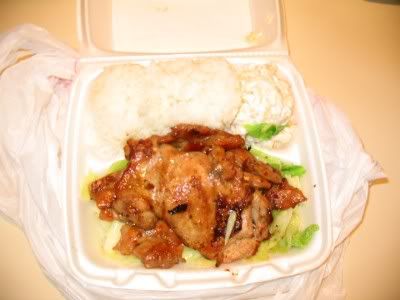 Tuesday, November 16, 2004
Some interesting kitchenware I found on Ebay
Part of the fun in cooking and eating is being able to use cool kitchenware/tableware.
Deery Lou cereal bowl
Deery Lou bowl and mug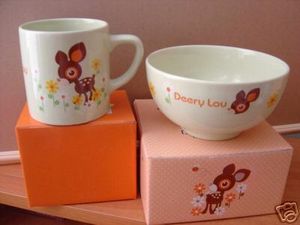 Hello Kitty wooden chopsticks

Hello Kitty pink translucent bowl and chopsticks
Little Twin Stars toaster oven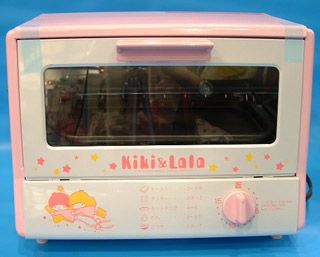 Winnie The Pooh teapot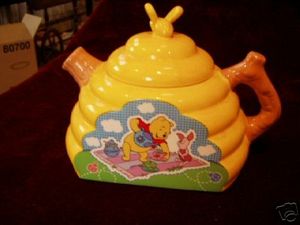 and the mug(excellent for tea or hot cocoa)

Going off to make pad thai for dinner.Ciao!

Saturday, November 13, 2004
Absolutely nothing to do with food but i thought i would post a picture of my DIY pedicure.
Pedicure!

Wednesday, November 10, 2004
Howdy!It has been a long time.I have been making kitchen purchases through Amazon lately because they've one of the better deals around.Below are pictures of kitchenware that we've gotten or will be getting.
Calphalon 12" everyday pan(received)
Calphalon 5 quart chilli pot( i am buying 2 sets)
waiting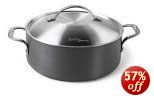 Calphalon 12" omelette pan(received)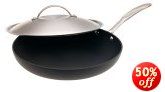 Farberware pro knife block set with KitchenAid blue chop board(received)
afraid of knives so didn't get anything too fancy